The first Agile themed Lithuanian podcast - On The Agile Couch
Ant Agile Sofos (On the Agile Couch) - book!
We would like to introduce you to our small booklet - memories "What have we learned from the talks On the Agile Couch". Here we have summarised and illustrated some of our talks with guests in LT language. If you are interested, or just want to refresh what have we discussed - take a look and download it. We are grateful for all our guest speakers which agreed to have a seat On the Agile Couch as well as special thanks to the ones, that agreed to have our talks summarised in this small book.
Currently this book is only in Lithuanian language, stay tuned for translation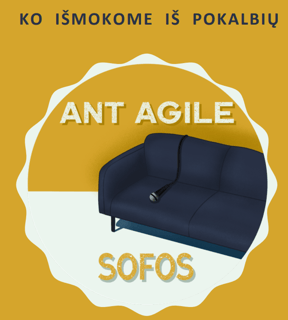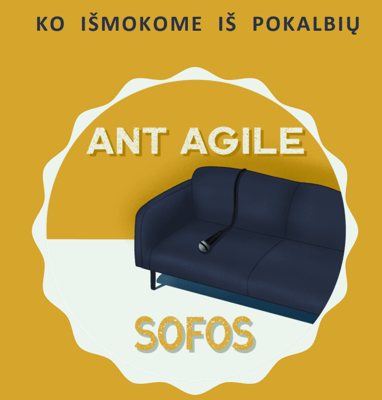 The first publication about "Ant Agile Sofos" (On the Agile Couch) - in LT language
"SEB bankas", "Rimi", "Ignitis", "Pergalė", "Senukai", VMI, "Lietuvos paštas" – tai visiems puikiai žinomų valstybinių ir verslo įmonių pavadinimai. Kas jas sieja? Gal ir nustebsite išgirdę, tačiau visos šios įmonės, kartu su daugybe kitų, nusprendė dirbti taikydamos Agile projektų valdymo metodikas.
Jei pamanėte, kad tai gali būti aktualu tik įmonės vadovui, labai klystate. Be abejo, yra tikimasi, kad įmonė, dirbanti Agile metodais, gebės greičiau prisitaikyti prie rinkos pokyčių ir gauti didesnį pelną, ir dažniausiai šie lūkesčiai išsipildo.
Vis dėlto, kaip sako patys Agile konsultantai, svarbiausia čia yra verslo kultūra, kurioje pagrindiniu įmonės turtu laikomas darbuotojas. Jam suteikiama laisvė įmonės komandą paverčia dinamiška ir motyvuota jėga, kuri įmonei gali atnešti neregėtą sėkmę.
Apie tai ir dar daugiau jums papasakos įmonės "Mambu" Agile konsultantas Simas Torgovickis, prisidėjęs prie daugybės sėkmingų įmonių pasikeitimų.